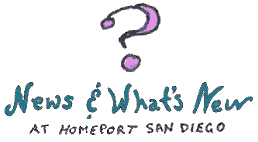 March 14, 2015
First phase of cleanup started. All links not related to San Diego have been moved into the HomePort Museum where their fate is uncertain.
Weather reporting performance is improved.
March 1, 2015
By request, search engines and other information resources are now at the end of the Reference page, however they are not guaranteed to stay there. (For that matter, there are no guarantees about any links staying anywhere in the site, especially if they're not San Diego-specific).
February 17, 2015
After 20 years, and with encouragement from loyal visitors, HomePort San Diego received a needed "tech" makeover this past weekend. While it incorporates current web technologies and is now mobile-friendly, I've kept the design true to its original charm and character.
Some things to note:
After a server upgrade earlier this month that impaired the site, links in the directory pages stopped working due to ancient software incompatibilities. They're working now, but most are out of date and lead to dead ends. I'm working on a solution for keeping them up to date.
A big part of that effort entails housecleaning. Two decades ago, before there was Google, Yahoo! or Bing, HomePort guided San Diegans new to the Internet. In addition to San Diego-related sites, it included cool discoveries on this new "World Wide Web". Today, those extras (now woefully old) dilute the value of HomePort. So I plan to remove most links unrelated to San Diego to keep it focused on America's Finest City.